Featured 1970 Plymouth AAR Cuda Collection: Home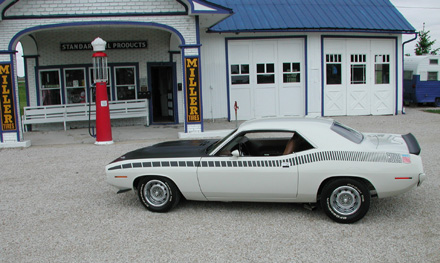 This is my Mopar: I bought the AAR in fall of 2004 in Connecticut and drove it straight home to central, IL. I worked on it for the next week so my son could take it to homecoming that weekend. Afterwards I stripped it completely and sent the shell out for media blasting and AAR spent the following 2 years on a rotisserie being restored.
I sent the engine to legendary Joe Jill of Superior Automotive Engineering in Anaheim, Ca. Joe has a vast knowledge the 340-6pak as he was Chrysler's fair hair boy back in 69 thru the early 70's. The worn-out 340 got freshened up starting with shot peen then a complete blue printing and machining yet still retaining the original stock crank, rods, block and heads maintaining 10:5 compression they massaged the little 340 improving the performance on every dyno pull to yield a 468ft tq @ 473hp at 5,800rpm and it was still was climbing. I spent the past year in half putting the car back together in my garage at home while my wife's car sat out for the winter (fyi you never want to do that ever) well I got it done.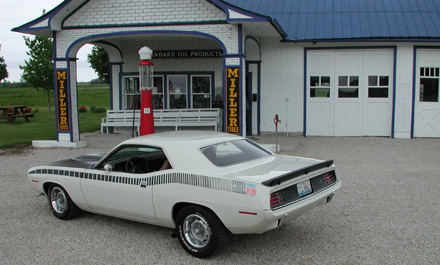 This AAR is a rare breed: Alpine White, T5 Tan interior, 4-spd, radio delete, rim blow horn, rally dash, fast ratio and opt 14 rear seat shoulder belts.
Car clubs:
Chairman of Pontiac Cruise Night ( www.pontiaccruisenight.com )
Committee member of Morris Cruise Night ( www.morriscruisenight.com)
Active Member of Heartland Mopar Club in Bloomington, IL
FYI: I have been bred MOPAR for years as my uncle was the service manager at Morris Chrysler for over 25yrs and I still remember the first ride my sister's new brand 1970 roadrunner 383 4-speed and the smell of burning rubber.
Thanks – Gary Bright – Pontiac, IL
For more information and photo's on Gary's Cool Plymouth AAR Cuda: 1

2
Own an AAR Cuda or other Mopar? Click here to submit your Mopar?