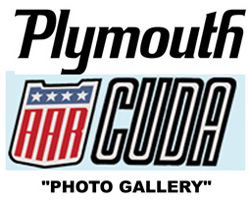 A collection of Plymouth AAR Cuda pictures are from past Mopar shows and events, including Mopar Nationals, Chrysler Classic's and more.
Left: Plymouth and Plymouth AAR Cuda logo, photo the from Chrysler Archives.
Photos in this collection were taken by the 440magnum Network staff.
Please Note: The photos in this section were created by plymouthaarcuda.com and are the property of plymouthaarcuda.com. All related files and documentation is Copyright (c) 2005 - 2019 plymouthaarcuda.com, All rights reserved. All other trademarks or registered trademarks mentioned are the property of their respective owners.