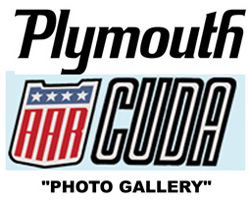 A collection of Plymouth AAR Cuda pictures from past Mopar shows and events, including Mopar Nationals, Chrysler Classic's and more.
Left: Plymouth and Plymouth AAR Cuda logo, photo the from Chrysler Archives.
Photos in this collection were taken by the 440magnum Network staff.
Want to see your AAR Cuda featured on our site? Visit our help section for information on getting your AAR Cuda featured.
Please Note: The photos in this section are the property of the 440magnum Mopar Enthusiast Network. All related files and documentation are Copyright (c) 2005 - 2022 plymouthaarcuda.com, All rights reserved. All other trademarks or registered trademarks mentioned are the property of their respective owners.