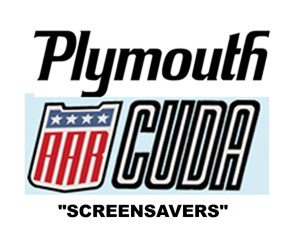 Our collection of free downloadable 1970 Plymouth AAR Cuda screensavers. Each screensaver in the collection features an assortment of cool AAR Cuda's.
These photos are from the 440magnum Mopar enthusiast network archives and include some submitted by our visitors.
Each screensaver in this collection has been tested for quality and contains no adware, no spyware and is virus checked. Plus, we do not require you to register your e-mail address to download or use our muscle car screensavers.
1970 Plymouth AAR Cuda High Definition (HD) Screensavers:
Plymouth AAR Cuda Screensaver 2.0 – A free high definition screensaver featuring a collection of 1970 Plymouth AAR Cuda's. Version 2 includes a mix of 33 Plymouth AAR Cuda photos submitted by our visitors and a few from past Mopar Shows and Events.
Plymouth AAR Cuda Screensaver 1.0 – Originally released in 2005, this free screensaver features a collection of 1970 Plymouth AAR 'Cuda's from past Mopar Shows & Events. Including Mopar Nationals, Chrysler Classics and more. Recently updated to support both larger screens and Windows 10.
Want to see your Mopar featured on our network? Visit our help section for getting your AAR Cuda featured. Our enthusiast screensavers are built from Mopars submitted by our visitors and the 440magnum Mopar Enthusiast Network archives.