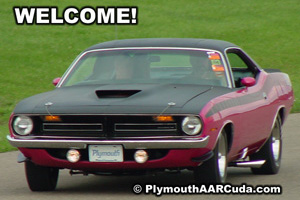 Dedicated to owners and enthusiasts of the 1970 Plymouth AAR 'Cuda muscle car. Our site includes a great collection of featured All-American Racers Cuda's sent in by our visitors.
Our information section provides specifications, performance data, production numbers, and more. Plus sections for photos, screensavers, and desktop wallpaper of these cool mopars.
About the 1970 Plymouth AAR Cuda:
Plymouth turned the heat up on the competition in 1970, with a redesign of the Barracuda. Buyers were offered 3 models: Barracuda, Barracuda Gran Coupe, and the performance equipped 'Cuda. For Mopar gear heads 'Cuda buyers had a wide choice of performance V8 engines. 340, 383, 440, and the legendary 426 HEMI.
In February of 1970, Plymouth announced the addition of the AAR 'Cuda. Available mid-year, production started March 10, 1970, and ended five weeks later on April 17, 1970. While not the most powerful Barracuda in Plymouths 1970 lineup, it was the most unique.
Street versions of the Plymouth AAR Cuda and the Dodge Challenger T/A were the results of Chrysler's involvement in the Sports Car Club of America (SCCA) Trans Am auto racing series. These E-bodies were different from any other high-performance car built by Ma Mopar.
You could not order a Plymouth AAR 'Cuda, Chrysler informed each eligible dealer of the number of cars they would be allotted. Only 2,724 examples of the All American Racers Plymouth Cuda were produced. The Plymouth AAR 'Cuda and the Dodge Challenger T/A are very sought after and also very valuable these days. For more information on this cool Mopar visit our AAR Cuda information section.
Latest Featured Plymouth AAR Cuda's: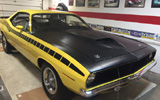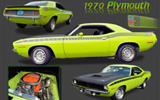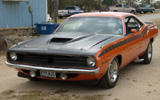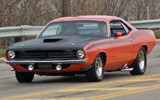 Featured Plymouth AAR Cuda's: Home
Own A Plymouth AAR Cuda? We are always looking for Plymouth AAR Cuda's to feature on our network. To participate you must own a Plymouth AAR Cuda. It can be your daily driver, your current project… It does not matter WE WILL POST IT! Plus your ride will also be featured in next month's Mopars Of The Month. Submit or Update your Plymouth AAR Cuda.