Plymouth had to build a minimum of 2,500 street versions of the AAR 'Cuda to qualify for Trans-am Racing. The Street AAR 'Cuda was conceived to resemble the racing AAR's as close as possible.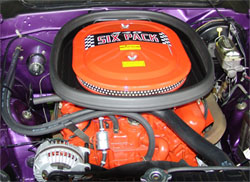 The 340 cubic inch street version engine featured the same block with offset-pushrod heads, but without the race engines bigger port's. These blocks were also cast with a beefed up bottom end. The 340 Six Pack engine was equipped three two-barrel Holleys on an Edelbrock aluminum manifold and low-restriction side-exit exhaust to complete the engine package. The AAR's street mill was rated 290 hp @ 5000 rpm and 345 lb ft of torque @ 3400 rpm.
Transmission options included 727 automatic transmission (column or console), and the Pistol Grip shifted 4-speed A833. The A-833 manual transmission included lower road race-oriented gear ratios. In the rear featured a 8.75-inch Sure-Grip axle with 3.55:1 gear set, a 3.91 set was available as a no-cost upgrade.
Underneath the AAR was 15 x 7 rallye rims with Goodyear Polyglas GT Tires. E60-15's up front and G60-15's in the rear. Larger tires were used in the rear to allow a special side exiting "chrome tipped megaphone" exhaust system. The AAR package also included front and rear sway bars and stiffer shocks and rear springs. Steering was handled through either the standard manual or power units, or an optional quick ratio unit.
On the outside a fresh-air-induction fiberglass hood using hood pins only. The hood, along with the fender tops and the front grille, was painted with textured black paint. To eliminate radio interference problems with the hood, the antenna was moved to the top of the rear quarter panel. Included in the package was a rear spoiler and some AAR's came with optional chin spoilers.

All AAR's were equipped with "strobe" stripes. The strip ran the length of the upper side, and was split into sections. At the front, the sections start out several inches wide. Each section then gets 4% smaller, ending in pinstrips. In bold reflective white letters outlined in black, comes 'CUDA logo, followed by a multi-colored AAR insignia. Most AARs came with very limited options and you could not order one, most dealers only got 1. Plymouth priced the AAR 'Cuda at $3,966.
Plymouth produced 2,724 AARs (1120 4-Speed and 1604 3-speed Automatic)
NOTE: This general Plymouth AAR Cuda information found on this page is believed to be accurate. PlymouthAARCuda.com assumes no responsibility for errors or omissions in anything that is referenced by or linked to on this page. This information is provided "as is" and was obtained from Chrysler Corporation, 440magnum Mopar Enthusiast Network archives, WWW, Books and other Reference Materials.