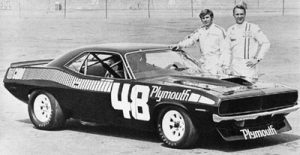 Ford Mustangs had won the 5.0-liter class of the SCCA Trans-American Championship for Manufacturers in 1966 and 1967, and Chevrolet took the trophies in 1968 and 1969. In 1970 Plymouth hired Dan Gurney and his racing team All American Racers to build and race two Trans-Am 'Cudas. One driven by Gurney and the second by Swede Savage.
The Trans-Am cars were built from stock bodies. SCCA rules required that the cars appearance remain absolutely stock. This meant roll up windows, no scoops or spoilers that weren't available on factory models. The rules also required a stock engine block and heads, with maximum displacement of 305 cubic inches and a single four-barrel carb. To enter the Trans-Am series, Plymouth also had to build 2,500 street versions of its racing 'Cuda.
To conform with the 305 C.I. rule, Chrysler Trans-Am manager Pete Hutchinson and engine builder Keith Black destroked the small-block 340 to 303.8 cubic inches. They also developed new cast-iron heads with pushrod holes shifted slightly to permit bigger ports. Early on, Chrysler reported 460 hp, but development produced more as the 1970 racing season progressed.
The AAR Cuda got off to a slow start in the 1970 series and never saw the checkered flag and finished last in the standings. The cars usually qualified well, and found themselves on the pole on occasion. But the cars rarely finished, and typically limped home when they did. At the end of the year, Chrysler pulled the plug on its unsuccessful effort.
Plymouth produced 2,724 examples of the AAR street version.
Source Of Information: Chrysler Corporation
NOTE: This general Plymouth AAR Cuda information found on this page is believed to be accurate. PlymouthAARCuda.com assumes no responsibility for errors or omissions in anything that is referenced by or linked to on this page. This information is provided "as is" and was obtained from Chrysler Corporation, 440magnum Mopar Enthusiast Network archives, WWW, Books and other Reference Materials.