The 1970 Plymouth AAR 'Cuda featured a unique 340 small block engine. Factory rated at 290 hp, its true horsepower was closer to 325. Just opening the hood of a AAR 'Cuda reveals this is not your average 340 engine. For starters Ma Mopar used a large oval shaped air cleaner to seal to the fiberglass fresh air hood. Underneath was three Holly 2300 series 2 Barrel carburetors sitting on a painted Edelbrock aluminum six pack intake manifold.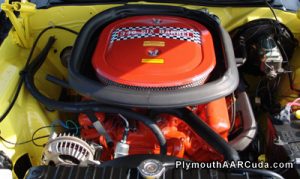 The 340 Six Barrel engine featured a stress relieved block with a high nickel content and filled oil pan rails. Additional material was also added at the main bearing web area to allow for 4 bolt main caps. However 2 bolt main caps were used on the production version.
Heads were regular J castings with modified pushrod holes drilled offset from the ports, this allowed the ports to be modified without breaking thru the pushrod holes. The rocker arms were adjustable similar to ones used on the 426 HEMI engine. Rocker arm shafts used additional banana shaped lube spreader grooves.
The package included High flow cast iron exhaust manifolds with dual mufflers located in front of the rear axle and side exiting chrome tips. A close ratio four-speed with a Hurst pistol grip shifter was standard. The 727 torqueflite was optional with either floor or column shift.
All AAR's were equipped with the 8 3/4 sure-grip rear end. Information from Chrysler states that the rear axle ratios were 3:55 (Standard) or 3:91 (Optional) however many AAR's were equipped with 3.23 gears.
NOTE: This general Plymouth AAR Cuda information found on this page is believed to be accurate. PlymouthAARCuda.com assumes no responsibility for errors or omissions in anything that is referenced by or linked to on this page. This information is provided "as is" and was obtained from Chrysler Corporation, 440magnum Mopar Enthusiast Network archives, WWW, Books and other Reference Materials.